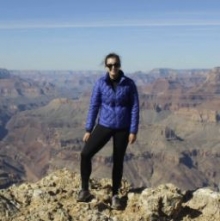 Geophysics Masters Student
Please briefly describe your current job:
I am researching near-surface geophysical imaging techniques to identify shallow groundwater features in the Gulf Coast. I was previously a summer & winter student trainee at the U.S. Geological Survey in the Eastern Energy Resources Science Center. At the USGS, I studied structural geologic causes for carbon dioxide and natural gas seeps as part of the carbon capture, sequestration, and storage initiative.
What is your favorite part of your current position:
I enjoy being able to go out into the field and plan my own research since classes are in the evenings. I can spend the day in the lab or field experimenting and don't have to worry about class lectures being in the way. GT EAS taught me to value the time we get to spend outside the computer lab, and I have found that I cherish my field work time more than ever since starting my graduate degree.
How did your EAS education prepare you for your current job?:
I think the EAS courses overall prepared me to work hard regardless of the circumstances. Every challenge I faced as an undergraduate has made me a stronger and more independent graduate student. My research experiences and teamwork in classes built a foundation that has set me apart from other masters students. Specifically, class projects in EAS Field Methods, Structural Geology, and Exploration Seismology gave me a background for success in graduate courses.