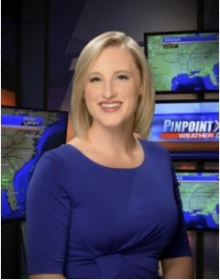 Maggie Dinizio
Chief Meteorologist
B.Sc. EAS, 2014
WZDX News
Huntsville, Alabama
What is your favorite part of your current position
I get PAID to talk about the weather every day! Not many people can say that their pay check comes from being able to geek out over their favorite hobby :)
How did your EAS education prepare you for your current job?
My EAS courses helped give me such a great background of the science behind weather processes that I was able to pick up on forecasting quickly.
What do you wish you had known as an EAS undergraduate in order to land the job of your dreams?
Internships and work experience during school is EVERYTHING! Having connections is so important in the world of meteorology. Meet as many professionals as you can and learn from them.