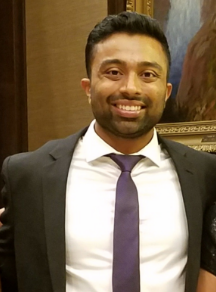 Please briefly describe your current job:
I am a Program Coordinator with Southface in Atlanta, GA. Part of my job includes field research for the Department of Energy.
What is your favorite part of your current position:
My favorite part is traveling. I'm not the type of person who can sit in an office all day.
How did your EAS education prepare you for your current job?:
Southface focuses on sustainability and environmental stewardship. Something that has been a passion of mine, but was developed and reinforced by my education at Georgia Tech. My experience in EAS allowed me find what I wanted to do in my career.
What do you wish you had known as an EAS undergraduate in order to land the job of your dreams?:
What I wasn't really aware of was how difficult it would be to land a job, and you're not going to love what you do right away. It helps to have connections and successful people to talk to. Some of my mentors are people who have very little knowledge about environmental science, and in some ways that's better than just talking to people in your field. I had a very focused idea of what I wanted to do after graduating, but I've learned since then you have to be more open to different opportunities.