Jacob Buffo
-
March, 2018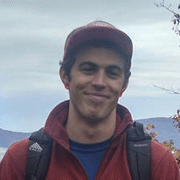 Jacob Buffo is a 4th year PhD student whose line of research is Ice-Ocean interactions both here on Earth and on icy moons in our solar system. Right now Jacob is specifically studying sea ice and ice shelves here on Earth, and Jupiter's moon Europa, which harbors a large subsurface ocean. He is working under the advisement of Dr. Britney Schmidt. Jacob received his B.S. from the University of Iowa, a double major, awarded in Physics and Astronomy. In his spare time Jacob enjoys the outdoors, specifically hiking, biking, snowboarding and xc skiing.
Click here to read more about Jacob Buffo.
Biao Wan
-
February, 2018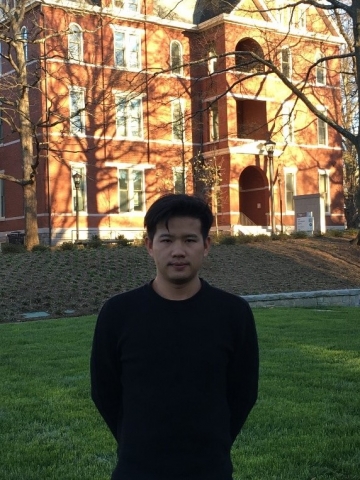 Biao Wan is a 2nd year PhD student under the supervision of Professor and advisor Dr. Yuanzhi Tang. Biao has been working on exploring the role of exogenous polyphosphate in the precipitation of calcium phosphate minerals in the marine environment. He received his B.Sc and M.Sc degrees in Environmental Sciences from Huazhong Agricultural University and enjoys listening to music, watching movies, NBA games, cooking, and traveling in his spare time.
Click here to read more about Biao Wan.
Shelby Ellis
-
January, 2018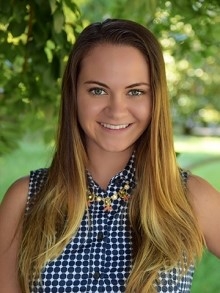 Shelby Ellis is enjoying her 2nd year as a graduate student in EAS. Working very closely with faculty advisor Dr. Kim Cobb, Shelby's specific line of research is paleoclimatology. Shelby received her B.A. in Chemistry from Florida Gulf Coast University. In her spare time she enjoys hiking, going to the beach and drinking margaritas.
Pan Liu
-
December, 2017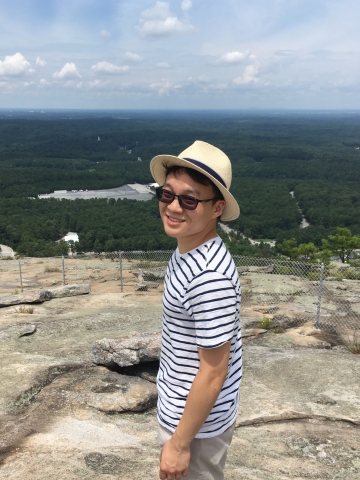 Pan Liu is a 2nd year PhD student. Working with faculty advisor Dr. Yuanzhi Tang, Pan is investigating the influence of microbial activities on the behaviors of a group of intriguing metals, the rare earth elements. He is also working on developing methods to harness microbes to recycle those metals from solid wastes, like coal fly ashes. Pan Liu earned his B.S. from Nanjing University in Nanjing, China. In his spare time he enjoys traveling, hiking, and playing basketball.
Amy Williamson
-
November, 2017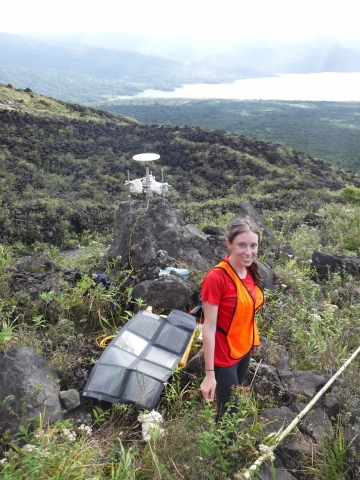 Amy Williamson is a 5th year PhD student. Working with faculty advisor Dr. Andy Newman, Amy's current research focus is geodesy, specifically modeling the source of tsunamigenic earthquakes. Amy earned her BS in Geoscience from Denison University. When not preparing for her upcoming defense Amy enjoys going for runs on the weekend and beating fellow grad student Lucas Liuzzo in Scrabble.
Click here to read more about Amy Williamson.
Tiegan Hobbs
-
October, 2017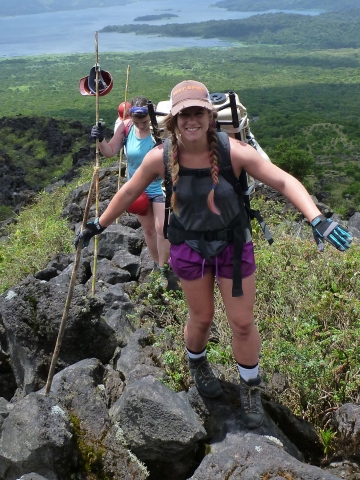 Tiegan Hobbs is a 4th year PhD student with EAS. This summer she will also be graduating with an MS in Civil Engineering. Her line of research is Geophysics where she specializes in the study of subduction zone physics and natural hazards. Tiegan is advised by Dr. Andrew Newman, with whom she studies postseismic recovery of the Nicoya megathrust. In her spare time Tiegan enjoys calligraphy and doing outreach with kids. She has been working with Georgia Tech's Center for Education Integrating Science for about 3 years, either as an Instructor or Group Leader.
Click here to read more about Tiegan Hobbs.
Justin Lawrence
-
September, 2017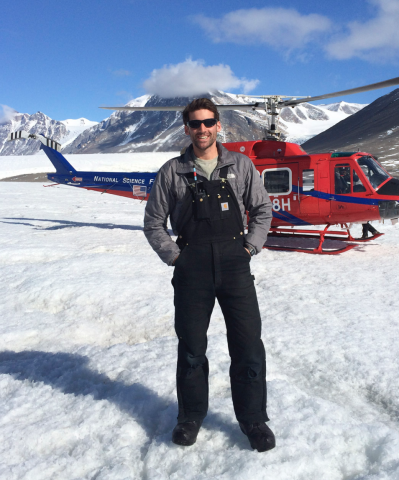 Justin Lawrence is a 2nd year PhD student. His line of research is planetary science & astrobiology, with a good bit of oceanography mixed in. Justin's notable projects include Icefin, underwater submersible vehicle work and exploration in Antarctica with Dr. Britney Schmidt, as well as prior field work that included deployments to Antarctica in 2013, 2014, 2015, and 2017 with UC Davis and Montana State University. Justin received his BS in Geoscience from Boston College. He enjoys hiking, cycling, sailing, diving and surfing in his spare time.
Click here to read more about Justin Lawrence.
Sebastian Ortega Arango
-
January, 2017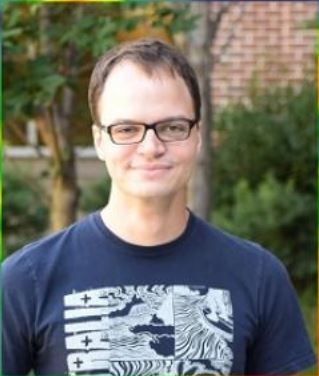 1/3/2017
The following is an exerpt from the College of Sciences story by A. Maureen Rouhi, Ph.D. Click here to read the entire story.
Sebastián Ortega graduated with Ph.D. and M.S. degrees in Earth and Atmospheric Sciences. He came to Georgia Tech with a B.S. in Civil Engineering from Universidad Nacional de Colombia. He is off to Colombia to work for the weather-prediction company CFAN, and then he will apply for a postdoctoral position in Colorado.

Advice to new graduate students: Do not be afraid to approach problems from unusual perspectives.

What attracted you to study in Georgia Tech? How did Georgia Tech meet your expectations?

What attracted me most was the possibility to study weather and climate. During my senior year studying for a bachelor's degree in civil engineering, I was particularly interested in studying fluid dynamics. I had done my senior thesis in physical limnology, and I wanted to keep studying along the same lines. Weather and climate were particularly interesting for me; I cannot think of a more interesting area to study fluid dynamics.

I was encouraged to apply to Georgia Tech by Oscar Mesa, a professor in my university, Universidad Nacional de Colombia, and Carlos Hoyos, a Georgia Tech alumnus who was working with Peter J. Webster. Peter and Carlos were looking for a new Ph.D. student to join their team.

When I was taking a class with Oscar Mesa, he mentioned the opportunity to study at Tech and connected me with Carlos. After exchanging a few e-mails with Carlos and other students in Peter's lab, I applied for admission. I was very interested in the research they were doing, so I was very happy to receive an acceptance letter a few months later.

Peter has had around seven Colombian Ph.D. students over the years and has worked with many more. This is important for Colombia, because many of his former students are applying in Colombia the knowledge they gained in meteorology at Georgia Tech.
Yun Hee Park
-
December, 2016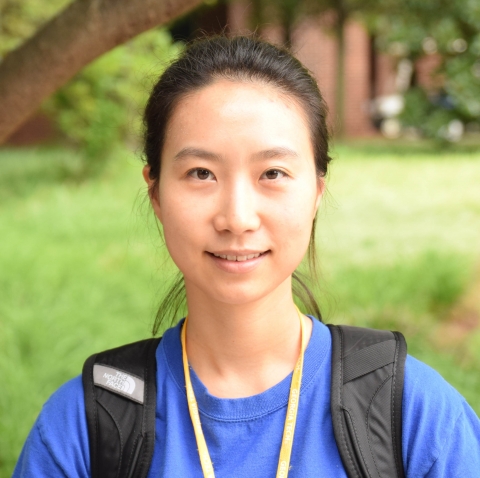 Yun Hee is a 3rd year graduate student working under the advisement of Dr. Irina Sokolik. Her line of research includes remote sensing and numerical modeling related to biomass burning, with recent research looking at impacts of smoke on UV fluxes. Yun Hee earned her B.A in Atmospheric Science from Yonsei University and a M.A in Atmospheric science from Univ. of Alabama in Huntsville. Working with Dr. Sokolik, Yun Hee published a paper last summer, which title is "Toward Developing a Climatology of Fire Emissions in Central Asia".
In Yun Hee's spare time, she enjoys cooking and spending time with his family and is expecting their second baby in December.
Giovanni Liguori
-
November, 2016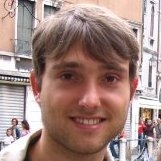 Giovanni Liguori is a 4th year graduate student in EAS. He received his B.S. in Environmental Sciences, summa cum laude, from University of Naples "Parthenope" in Italy. While at Georgia Tech, he has been awarded the Domenica Rea D'Onofrio Fellowship and written 8 peer-reviewed publications that can be viewed on his webpage at www.oceanography.eas.gatech.edu/gianni/pubblications/
His scientific interest is oceanography and climate dynamics from interannual to decadal timescales. His current project focuses on the mechanisms responsible for the observed Pacific decadal variability, which impact long-term transitions in marine ecosystems and influence the statistics of weather including ocean and atmosphere extremes such as strong droughts, hurricanes and marine heatwaves. Specifically, combining observations and model outputs, he is studying how tropical and extra-tropical Pacific climate modes interact to produce decadal variability.
In addition to his principal research topic, the Pacific decadal climate variability, Giovanni recently broadened his research horizon by involving himself in a project aimed to study the impact of climate change on Peruvian glaciers. He gained firsthand experience by attending a workshop in Lima, Peru, and visited the Andean glacier of Artesonraju, hiking up to an altitude of about 18,000 feet. The project was broadcasted by a Peruvian news channel.
In his spare time, Giovanni enjoys cooking and hosting events for his friends, playing soccer, racquetball, traveling, and hiking.
Pages