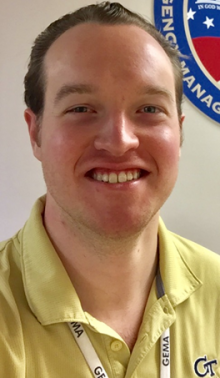 Georgia Emergency Management Agency (GEMA)
Please briefly describe your current job:
My main role is to advise leaders and decision-makers within the state government about upcoming weather systems that could potentially pose risk to the citizens of Georgia and their interests. In other words, whenever hazardous weather poses a threat to Georgia, it is my job to communicate the forecast to state leadership from an emergency management perspective. I also act as a liaison between GEMA, the National Weather Service, and local broadcast meteorologists. I serve in the State Operations Center as a subject matter expert for any weather-related activations that occur.
What is your favorite part of your current position:
I love that what I do actually makes an impact on peoples' lives. GEMA's mission statement is to "facilitate the protection of life and property against man-made and natural disasters..." - and I get to play a role in that! I don't "make the forecast" - I take what the National Weather Service and local broadcast meteorologists are forecasting and communicate it to state leaders in a manner that is both understandable and relevant to them. From there, decisions are made from the state-level to best protect life and property from impending weather hazards in all of Georgia. It is thrilling to see my work making a positive impact in the lives of Georgia citizens!
How did your EAS education prepare you for your current job?:
I learned most of what I know from taking classes in the EAS department at Georgia Tech. It was taking that information and applying it to internships and research projects that propelled me into the job field. I interned and worked part-time at WSB-TV during my final three years of college. I also spent a summer volunteer-interning at the National Weather Service in Peachtree City. Working side-by-side with broadcast and NWS meteorologists prepared me well for liaising between GEMA and - wait for it - broadcast and NWS meteorologists. My Georgia Tech EAS education propelled me into internships which propelled me into my current job. I cannot stress enough how important it is to take advantage of these opportunities while still in school, and Georgia Tech provides some of the best opportunities. When it comes to the classroom and internships, you get out of them what you put into them. The connections you make and the experiences you gain as a student will set you up very well to eventually break into the job market. I would be remiss not to mention college advisors! These people are experts and know what they're doing - I wouldn't be where I am today without mine!
What do you wish you had known as an EAS undergraduate in order to land the job of your dreams?:
As valuable as a degree is (believe me - I cherish mine), it won't intrinsically get you where you want to go. In other words, you can't just show up to a job interview with your diploma and expect them to hire you on the spot. It is the experience that you gain by applying what you learn in the classroom that will make you valuable in the marketplace. Anything you can do to boost your abilities in your field of interest, whether training, certifications, internships, etc. is worth it. Again, it's not the fact that you've done the work that makes you valuable, it's the knowledge, abilities, and experience that you've gained by doing the work that makes you valuable. Something that I did not do well (and wish I had) is networking and marketing. I cannot remember ever getting a job where I didn't know somebody who worked there. Putting yourself out there and promoting what you have to offer will make the job search process much more enjoyable.