He has been working with both Dr. Zhigang Peng and Dr. Andy Newman with Raspberry Shake seismometers through the GTEQ project as the student network manager and by taking research for credit.
EAS Early Career Scientists highlight
Dr Vincent Verjans
a climate scientist working on computational methods to understand interactions within the Earth system. He is a postdoc at Georgia Tech in the group of Dr Alex Robel and his research focuses on ice sheet modeling. Vincent develops stochastic parameterizations to better represent the time variability in ice sheet evolution, and statistical approaches to quantify processes still unresolved in current models.
His most recent work has been highlighted in EOS because it "makes a significant leap forward" in his field of studies!
Vincent and co-authors propose a new, efficient approach to generate ocean forcing for Greenland ice sheet simulations. They first bias-correct global climate model output based on observed oceanic conditions and variability. Then, they apply a parameterization from high-resolution ocean models to extrapolate open ocean temperatures into the fjords around the Greenland Ice Sheet margin. Finally, they calibrate stochastic time series models to reproduce the natural variability around Greenland. This method will enable to better characterize uncertainty in ocean forcing, which is key to improve ice-sheet modeling.
Vincent finds the spatiotemporal patterns of the climate system fascinating and hopes to better understand these complexities through his research.
Recent News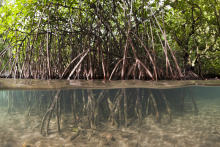 Researchers at the Georgia Institute of Technology and Yale University are proposing a novel pathway through which coastal ecosystem restoration can permanently capture carbon dioxide from the atmosphere.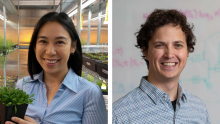 Awarded to Lily Cheung and Simon Sponberg, the grants will fund cutting-edge research in their fields.
Upcoming Events
There are no upcoming events at this time. Please come back later.