Thomas Silas
-
May, 2022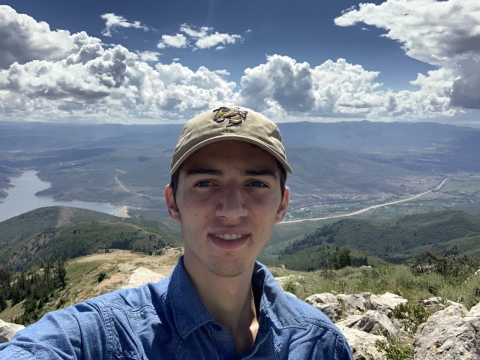 Thomas Silas is a fourth-year Earth and Atmospheric Science undergraduate student with a concentration in meteorology, graduating in spring 2022. His main research interests are synoptic and mesoscale meteorology, particularly severe thunderstorms. Thomas worked with Dr. Zachary Handlos on a project investigating a 2010 East Pacific jet stream superposition event and presented this research at the AMS Student Conference poster session, where he was selected as a recipient of the Undergraduate Outstanding Student Conference Poster Award. He currently serves as Vice President of StORM Club, Georgia Tech's AMS student chapter, and previously served as Treasurer. After graduation, he plans to pursue a master's degree in meteorology before hopefully beginning a career in operational meteorology. Outside of academics, Thomas is involved in Georgia Tech's Christian Campus Fellowship and enjoys hiking, playing intramural sports, and traveling to new places.
Ella Stewart
-
April, 2022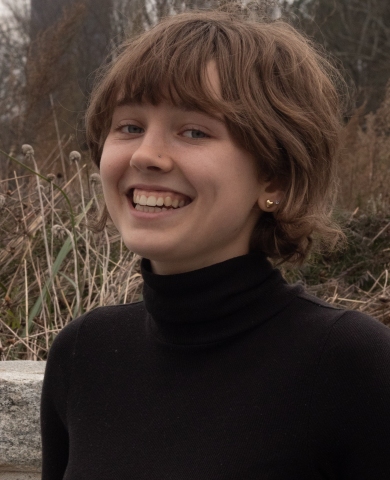 Ella Stewart is a third year BS/MS student in EAS, focusing her coursework on environmental science. She conducts research with Dr. Winnie Chu, where they use radar observations of marine-ending glaciers to study the ice sheet-to-ice shelf transition. Recently, they joined forces with Dr. Alexander Robel to study seawater intrusion under marine-ending glaciers using numerical modeling. Ella is striving for a career where she can apply herself to a problem relevant to climate change, particularly one involving computing. Ella is the president of the vegan/vegetarian student organization, Veggie Jackets, and she writes investigative articles and op-eds related to sustainability for the student publication 3484 Magazine. Outside of Tech, she enjoys vegan baking, biking around the city, and keeping up with the never-ending media cycle for Rupaul's Drag Race.
Sara Delawalla
-
March, 2022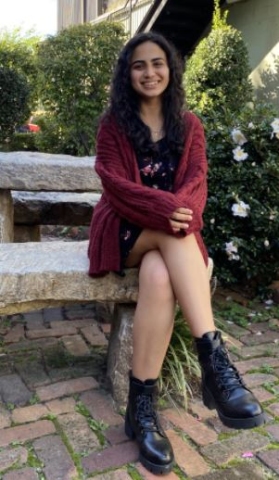 Sara Delawalla is a third year EAS major and CS minor, focusing on oceanography. She conducts research with Dr. Takamitsu Ito on Southern Ocean nutrient cycles and their relationship to biological activity. This past summer, she interned at NASA's Goddard Space Flight Center, imaging and analyzing atmospheric data collected by the ICESat-2 satellite. She is also the Vice President of Operations of Georgia Tech's chapter of Sigma Sigma Rho Sorority Inc. Outside of school, she enjoys reading novels, playing video games, baking, watching bad movies with her roommates, and hanging out with her friends and sorority sisters.
Paige Wise
-
February, 2022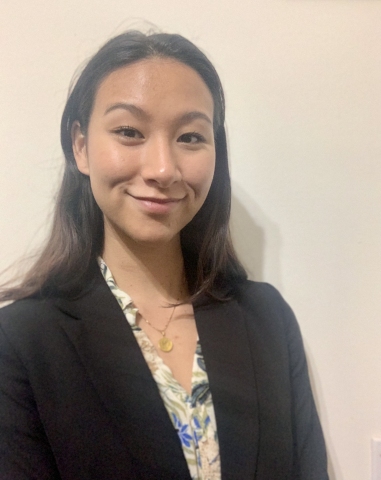 Paige Wise is a fourth year EAS major, conducting research in aqueous geochemistry with Dr. Yuanzhi Tang's lab group. In the fall of 2021, she was able to give a poster presentation on rare earth element adsorption to clay minerals at both the American Chemical Society and Geological Society of America conferences. Paige is the president of Sigma Gamma Epsilon (EAS geological honor society) and has been awarded the Martin L. Stout Scholarship by the Association for Environmental and Engineering Geologists and the Expanding Representation in Geoscience Scholarship by the Geological Society of America. Born and raised in Hawaii, Paige enjoys spending as much time outdoors as she can reading, backpacking, and rock climbing.
Charlotte Carl
-
January, 2022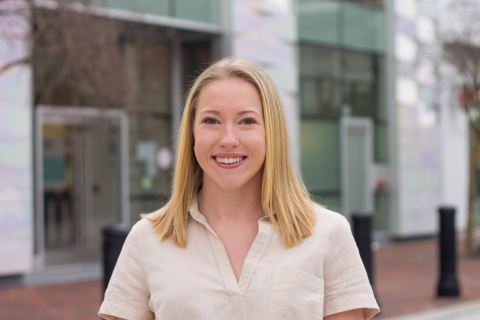 Charlotte Carl is a third-year EAS major concentrating in meteorology on the business plan. She is involved in research with the Severe Storms Center (a group within GTRI) where she researches lightning. Charlotte is a teaching assistant for Earth Processes (EAS 2600) under Dr. Naif and also was a teaching assistant under Dr. Handlos over the summer for How to Build a Habitable Planet (EAS 1601). Upon her graduation in Fall of 2022, she hopes to pursue a masters degree in broadcast meteorology. Her career goals include bringing innovation to the field of broadcast meteorology. Charlotte is an active member of Greek life serving as her sorority's Risk Manager. Charlotte has also served as the EAS representative in the Undergraduate House of Representatives within the Student Government Association. Outside of Georgia Tech, she is an avid runner and in her spare time loves baking and enjoying the beaches in her hometown of Tampa, Florida.
Susan Harrison
-
December, 2021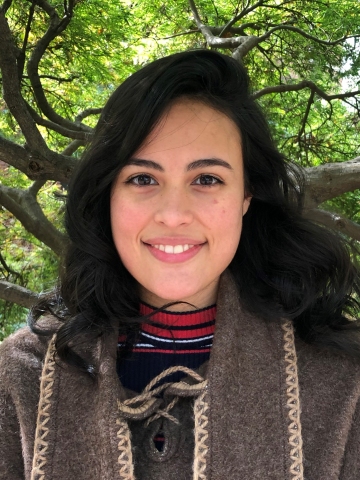 Susan is a first generation, Peruvian-American senior Earth and Atmospheric Sciences undergraduate student graduating later this month. She transferred into Georgia Tech with her Associates in Geology from Georgia Highlands College in 2019. Throughout her studies at GT, Susan has concentrated her studies in planetary sciences. During her time at Georgia Tech, she has been an involved part of the student body. Susan has worked as a teaching assistant for EAS 1601 (How to Build a Habitable Planet), for two semesters, and was on the treasury board of the Latin American Student Organization, for the 2020-2021 school year. This past summer, she performed a semester of research with Dr. Shi Joyce Sim on computing efficiency, for mid-ocean ridge spreading zone melt production models, and will be presenting this research at the AGU fall meeting in New Orleans, in December. In her free time Susan enjoys staying active, spending time with friends, drawing and clay sculpting.
Ethan Losasso
-
November, 2021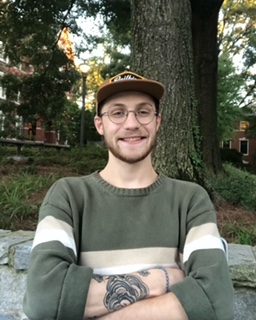 Ethan Losasso is an Earth and Atmospheric Sciences undergraduate student with interests in geophysics and environmental science, planning to graduate in Spring of 2023. Last semester, he began research with Dr. Andrew Newman with the goal of developing a tool that uses Python code to produce interactive bathymetric maps of the area around the Puerto Rico trench, which can then be analyzed to produce slip models for normal faulting events in the outer rise, which are useful for evaluating tsunami generation potential. After applying for and receiving the Rutt Bridges Award, he is continuing this research through the Spring 2022 semester, working towards a publishable final product. He is also involved in Outdoor Recreation at Georgia Tech (ORGT) as a rock climbing instructor-in-training and is a member of the Georgia Tech Climbing Club team. Outside of school, he enjoys hiking, climbing, playing bass guitar, and spending time in the outdoors.
Kiera Tran
-
October, 2021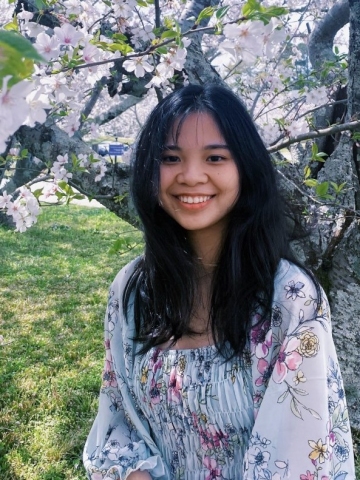 Kiera Tran is a senior in Earth and Atmospheric Science major. She started with a Business major but ended up pursuing her passion toward Earth Science with concentration Oceanography and Climate concentration. She has been conducting research with Dr. Winnie Chu and her graduate student Angelo Tarzona which will be presented in 2021 AGU Fall Meeting. Their research focuses on observing and analyzing data collected from airborne radar on Ross Ice Shelf (RIS) in the half past century, where Kiera is responsible for modern data observations within the past 20 years. By extracting the data, they compute the ice thickness, geometric power, and reflectivity from surface and bed layers of the ice shelf to produce modern ice thickness map and qualitative map of ice-shelf basal crevasses and channels on RIS. After school, she tutors science and language classes for minority K-12 students across the US through Abc-tutor. Beside all the work that she enjoys in academics, she likes playing piano and kalimba, drawing, writing stories, playing sports with friends, and volunteering in environmental activities.
Samantha Motz
-
September, 2021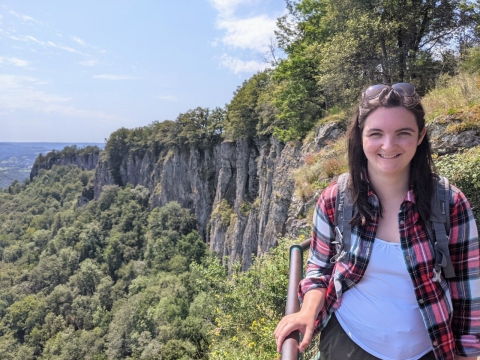 Samantha Motz is an Earth & Atmospheric Science undergraduate concentrating on geophysics with a plan to graduate in Fall of 2022. This semester she is beginning research under the guidance of Dr. Karl Lang in the TECHtonics group using detrital zircon geochronology to analyze the provenance of sediment from the ancestral Colorado River. This past summer, Samantha participated in UNAVCO'S RESESS program in which she performed research under the guidance of Dr. Kamini Singha at the Colorado School of Mines. She examined the influence of topography on discharge and specific conductivity in the Hotel Gulch Watershed located in Central Colorado. Additionally, she has started Hike with a Scientist events with the GA Tech club Trailblazers as a scientific education outreach program. Outside of Tech, she enjoys baking, hiking, and traveling with her husband. After graduation, Samantha plans to pursue graduate school to further explore her interest in geophysics, hydrology, and near-surface processes.
Michelle Babcock
-
August, 2021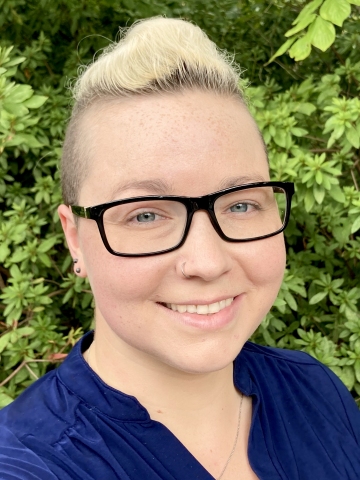 Michelle is an Earth and Atmospheric Sciences student in the BS/MS program, focusing on planetary science and astrophysics. Michelle completed their EAS undergrad in Summer 2021 and is continuing in the master's program this Fall. Over the past two semesters, Michelle did research under Dr. Britney Schmidt and graduate student Chase Chivers to look at "tortuous faults" and other features on the surface of Jupiter's moon Europa, Michelle has also spent a couple years creating online media with Dr. Schmidt's NASA-sponsored Oceans Across Space And Time project. In addition to space sciences, Michelle is interested in climate change and won Georgia Tech's Spring 2020 Carbon Reduction Challenge along with a team of four EAS students. In addition to being an EAS student at Georgia Tech, Michelle earned a Communication degree from Kennesaw State University in 2012, then worked as a journalist, earning 11 Associated Press and 9 GA Press Association awards. Combining journalism and science is a natural fit, as both endeavors seek and share truths.
Pages