Chelsea Bekemeier
-
December, 2022
Chelsea Bekemeier is a senior Earth and Atmospheric Sciences major with a concentration in meteorology. Her research interests include the relationship between climate change and extreme weather events, as well as atmospheric chemistry. She is a recipient of the 2022 Rutt Bridges Award and is currently working with Dr. Huey on the detection of trace species in the Upper Troposphere enhanced by convection related to the Asian Summer Monsoon anticyclone. Under Dr. Huey, she participated in the NASA/NCAR Asian Summer Monsoon Chemical and Climate Impact Project (ACCLIP) mission this summer in the Republic of Korea. Chelsea also works on designing high-altitude balloon payloads for atmospheric measurements as a part of the Lightning from the Edge of Space Vertically Integrated Project. She is a member of the Sigma Gamma Epsilon Earth Science Honor Society and the Vice President/Social Media Manager of the Georgia Tech American Meteorological Society Chapter, StORM Club. In her free time, she enjoys hiking, caving, rock climbing, and sport parachuting.
Anna Redanz
-
November, 2022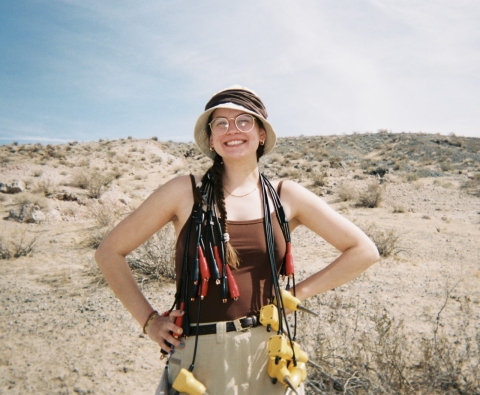 Anna Redanz is a Fourth year EAS major with a focus in geophysics graduating this fall. Anna has been doing research under Dr. Naif as a member of the electromagnetic geophysics lab since the fall of 2021. Her research interests include but are not limited to methane hydrate location, subduction zone imaging, and on-land magnetotellurics. She hopes to attend grad school and diversify her current research portfolio which she also worked to do during this past summer. She assisted with on-land magnetotelluric research in the Eastern Fold Belt in Bangladesh and then shortly after, she participated in researching rock deformation through the RORD REU at the Massachusetts Institute of Technology in the Peč Lab. For work, Anna loves her job as a part-time nanny for a family of 5 kids, as well as being a lab TA for 2600 this semester. Outside of work and school, she loves to scrapbook, bake, decorate, do yoga, go thrifting, make kombucha, craft homemade greeting cards and hang out with friends.
Caitlin Kaiser
-
October, 2022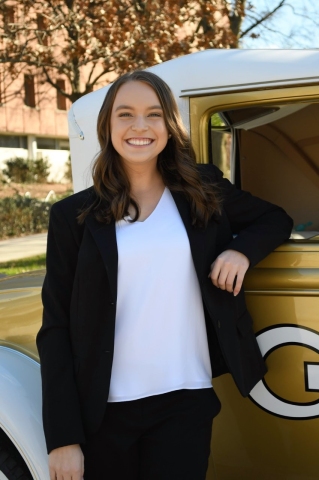 Caitlin is a fourth-year Earth and Atmospheric Science major with a concentration in meteorology. In previous semesters, she worked as a teaching assistant for the Earth Processes lab under Dr. Grantham. Last spring, she interned with the CNN Weather Team where she wrote weather-related articles for cnn.com, assisted staff meteorologists with research, alerts, and graphics, as well as managed their social media. Now, Caitlin continues to work for CNN as a freelance weather producer where she produces graphics for on-air weather hits and assists with digital content. Outside of academics, Caitlin is a student-athlete at Tech where she is the captain of the National Champion Goldrush Dance Team. In her free time, she enjoys being a member of Alpha Chi Omega, reading, watching sunsets, and traveling -- especially to the beach.
Leah Hornsey
-
September, 2022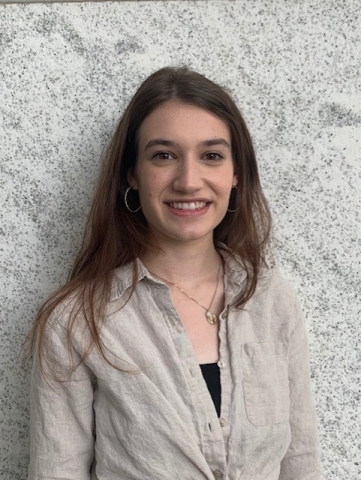 Leah Hornsey is a fourth-year concentrating in geophysics within EAS. She has been a member of Dr. Chu's Glacier Geophysics research group for a year. In Spring 2022, she received the President's Undergraduate Research Award to study the hydrology of Store Glacier in Greenland using NASA radar data. She also had the opportunity to travel to the Mojave Desert to study the tectonics of southern California through the Geophysical Field Methods class. Throughout her time at Tech, she has been a part of Engineers Without Borders, Christian Campus Fellowship, and WREK Radio. She hopes to become an environmental consultant after getting her Master's in Earth and Atmospheric Sciences.
Faria Panwala
-
August, 2022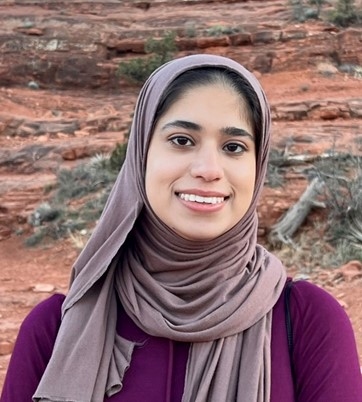 Faria is a fourth-year Earth and Atmospheric Science major focusing on meteorology. Her research interests include severe weather and tornadoes, and she hopes to have a career in science communication and emergency management regarding natural disasters. This past summer, she started interning with NOAA's Air Resources Laboratory in the Atmospheric Turbulence and Diffusion Division, which focuses on air quality and climate-related research. Outside of school, she enjoys volunteering with local communities to educate and bridge the gap between young women, specifically from underrepresented groups, and STEM. She also enjoys traveling, building 3D puzzles, and ceramics.
Nadiyah Williams
-
July, 2022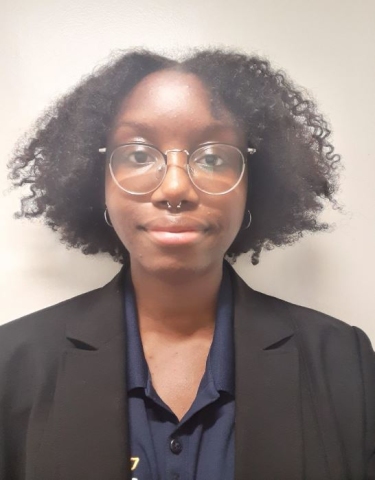 Nadiyah is a second-year EAS student with a focus in meteorology. She is currently involved with tornado-related research at the Severe Storms Research Center and will be working with the National Severe Storms Laboratory in Summer 2022 under the William M. Lapenta Student Internship Program on doppler radar and radiosonde research. She is also a teaching assistant for EAS 2600 and a resident assistant. In her spare time, she enjoys playing roller derby with Yellow Jacket Roller Derby and watching anime.
Autumn Toms
-
June, 2022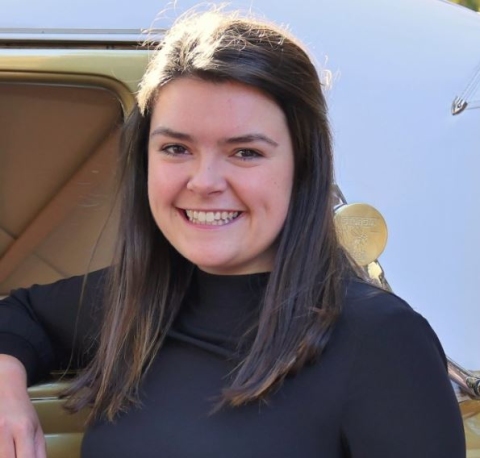 Autumn Toms is a third-year Earth and Atmospheric Science major with an interest in meteorology. In the past year, she worked with Dr. Lynch-Stieglitz's lab group to determine changes in the southeast Atlantic oxygen minimum zone during the last glacial maximum. She now researches with GTRI's Severe Storms Research Center to determine how the peak rotational velocity from radar of tornadoes in the southeast United States compares to the recorded EF rating. This summer Autumn will research at the Marine Meteorology Division of the US Naval Research Laboratory, where she will work on a project concerning tropical cyclones. Autumn will also serve as the next president of StORM Club, Georgia Tech's AMS student chapter. She enjoys taking photos of the sky, hiking, and listening to audiobooks.
Thomas Silas
-
May, 2022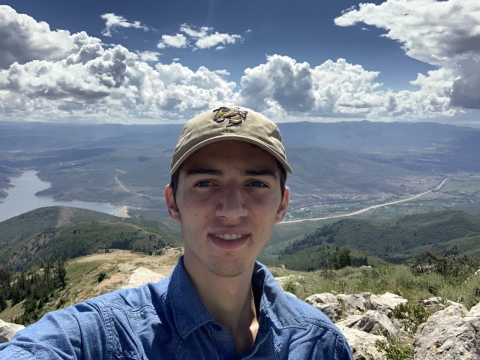 Thomas Silas is a fourth-year Earth and Atmospheric Science undergraduate student with a concentration in meteorology, graduating in spring 2022. His main research interests are synoptic and mesoscale meteorology, particularly severe thunderstorms. Thomas worked with Dr. Zachary Handlos on a project investigating a 2010 East Pacific jet stream superposition event and presented this research at the AMS Student Conference poster session, where he was selected as a recipient of the Undergraduate Outstanding Student Conference Poster Award. He currently serves as Vice President of StORM Club, Georgia Tech's AMS student chapter, and previously served as Treasurer. After graduation, he plans to pursue a master's degree in meteorology before hopefully beginning a career in operational meteorology. Outside of academics, Thomas is involved in Georgia Tech's Christian Campus Fellowship and enjoys hiking, playing intramural sports, and traveling to new places.
Ella Stewart
-
April, 2022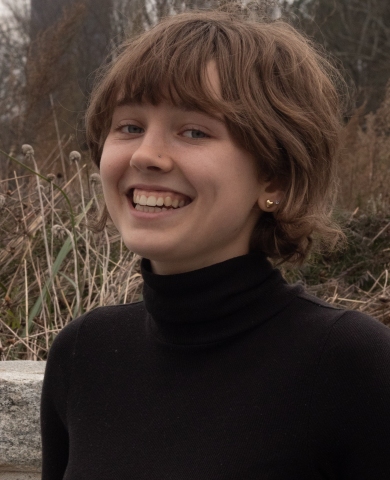 Ella Stewart is a third year BS/MS student in EAS, focusing her coursework on environmental science. She conducts research with Dr. Winnie Chu, where they use radar observations of marine-ending glaciers to study the ice sheet-to-ice shelf transition. Recently, they joined forces with Dr. Alexander Robel to study seawater intrusion under marine-ending glaciers using numerical modeling. Ella is striving for a career where she can apply herself to a problem relevant to climate change, particularly one involving computing. Ella is the president of the vegan/vegetarian student organization, Veggie Jackets, and she writes investigative articles and op-eds related to sustainability for the student publication 3484 Magazine. Outside of Tech, she enjoys vegan baking, biking around the city, and keeping up with the never-ending media cycle for Rupaul's Drag Race.
Sara Delawalla
-
March, 2022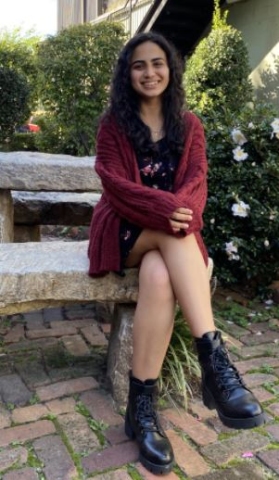 Sara Delawalla is a third year EAS major and CS minor, focusing on oceanography. She conducts research with Dr. Takamitsu Ito on Southern Ocean nutrient cycles and their relationship to biological activity. This past summer, she interned at NASA's Goddard Space Flight Center, imaging and analyzing atmospheric data collected by the ICESat-2 satellite. She is also the Vice President of Operations of Georgia Tech's chapter of Sigma Sigma Rho Sorority Inc. Outside of school, she enjoys reading novels, playing video games, baking, watching bad movies with her roommates, and hanging out with her friends and sorority sisters.
Pages