Ethan Losasso
-
November, 2021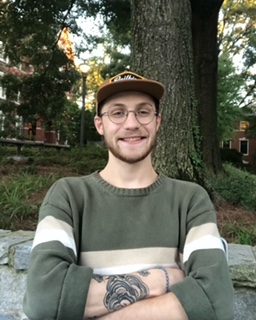 Ethan Losasso is an Earth and Atmospheric Sciences undergraduate student with interests in geophysics and environmental science, planning to graduate in Spring of 2023. Last semester, he began research with Dr. Andrew Newman with the goal of developing a tool that uses Python code to produce interactive bathymetric maps of the area around the Puerto Rico trench, which can then be analyzed to produce slip models for normal faulting events in the outer rise, which are useful for evaluating tsunami generation potential. After applying for and receiving the Rutt Bridges Award, he is continuing this research through the Spring 2022 semester, working towards a publishable final product. He is also involved in Outdoor Recreation at Georgia Tech (ORGT) as a rock climbing instructor-in-training and is a member of the Georgia Tech Climbing Club team. Outside of school, he enjoys hiking, climbing, playing bass guitar, and spending time in the outdoors.
Kiera Tran
-
October, 2021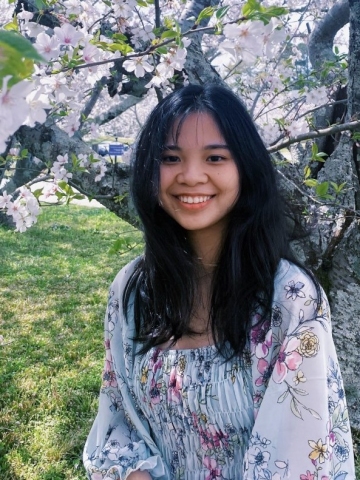 Kiera Tran is a senior in Earth and Atmospheric Science major. She started with a Business major but ended up pursuing her passion toward Earth Science with concentration Oceanography and Climate concentration. She has been conducting research with Dr. Winnie Chu and her graduate student Angelo Tarzona which will be presented in 2021 AGU Fall Meeting. Their research focuses on observing and analyzing data collected from airborne radar on Ross Ice Shelf (RIS) in the half past century, where Kiera is responsible for modern data observations within the past 20 years. By extracting the data, they compute the ice thickness, geometric power, and reflectivity from surface and bed layers of the ice shelf to produce modern ice thickness map and qualitative map of ice-shelf basal crevasses and channels on RIS. After school, she tutors science and language classes for minority K-12 students across the US through Abc-tutor. Beside all the work that she enjoys in academics, she likes playing piano and kalimba, drawing, writing stories, playing sports with friends, and volunteering in environmental activities.
Samantha Motz
-
September, 2021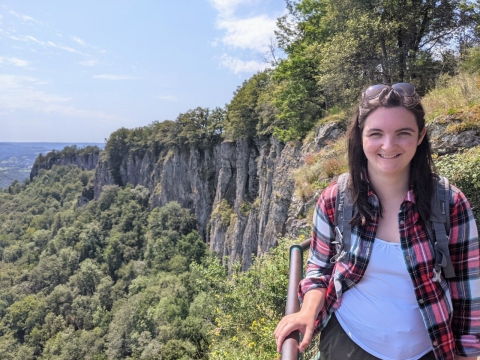 Samantha Motz is an Earth & Atmospheric Science undergraduate concentrating on geophysics with a plan to graduate in Fall of 2022. This semester she is beginning research under the guidance of Dr. Karl Lang in the TECHtonics group using detrital zircon geochronology to analyze the provenance of sediment from the ancestral Colorado River. This past summer, Samantha participated in UNAVCO'S RESESS program in which she performed research under the guidance of Dr. Kamini Singha at the Colorado School of Mines. She examined the influence of topography on discharge and specific conductivity in the Hotel Gulch Watershed located in Central Colorado. Additionally, she has started Hike with a Scientist events with the GA Tech club Trailblazers as a scientific education outreach program. Outside of Tech, she enjoys baking, hiking, and traveling with her husband. After graduation, Samantha plans to pursue graduate school to further explore her interest in geophysics, hydrology, and near-surface processes.
Michelle Babcock
-
August, 2021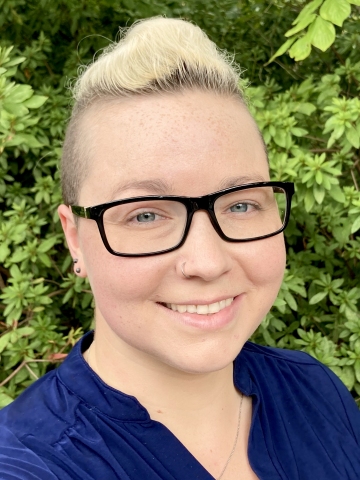 Michelle is an Earth and Atmospheric Sciences student in the BS/MS program, focusing on planetary science and astrophysics. Michelle completed their EAS undergrad in Summer 2021 and is continuing in the master's program this Fall. Over the past two semesters, Michelle did research under Dr. Britney Schmidt and graduate student Chase Chivers to look at "tortuous faults" and other features on the surface of Jupiter's moon Europa, Michelle has also spent a couple years creating online media with Dr. Schmidt's NASA-sponsored Oceans Across Space And Time project. In addition to space sciences, Michelle is interested in climate change and won Georgia Tech's Spring 2020 Carbon Reduction Challenge along with a team of four EAS students. In addition to being an EAS student at Georgia Tech, Michelle earned a Communication degree from Kennesaw State University in 2012, then worked as a journalist, earning 11 Associated Press and 9 GA Press Association awards. Combining journalism and science is a natural fit, as both endeavors seek and share truths.
August Harrell
-
June, 2021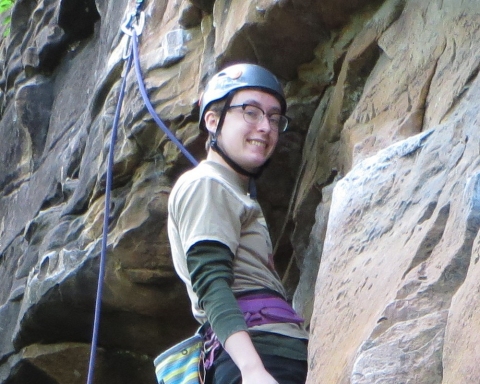 August Harrell is a junior EAS major planning to graduate in Spring 2022. He has worked as a TA for the EAS 2600 lab for two semesters, giving short lectures to prepare students for the wide range of material. His interests include geochemistry and geology. After graduation, he plans to pursue graduate school and field work opportunities. In his free time August enjoys being outdoors climbing, hiking, camping, and painting. He hopes to continue learning new things about the natural world and how we can live in harmony with it.
Kelsey Abernathy
-
May, 2021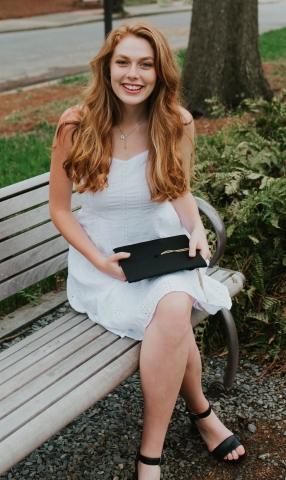 Kelsey Abernathy is a fourth-year Earth and Atmospheric Sciences major with a concentration in Environmental Sciences. She is graduating in May 2021 with a certificate in Sustainable Business and a passion for both people and the planet. While in her undergrad, Kelsey worked as a Communications Assistant for the Global Change Program as well as a Student Assistant for Environmental, Health, and Safety on campus. As part of her completion of Serve Learn Sustain's Innovating for Social Impact Program, she also interned with Georgia Tech Facilities Management as the GIS intern and completed several consulting-like projects with partners like the Office of Campus Sustainability and local nonprofits. Outside of academics, Kelsey is a member of Alpha Gamma Delta, an avid reader, and lover of all things promising an adventure. After graduation, Kelsey hopes to work somewhere that allows her to pursue her passions and leave a positive impact on this world.
Matthew Salamoni
-
April, 2021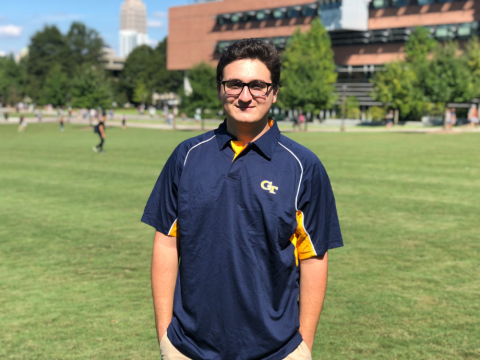 Matthew Salamoni is a fourth year EAS major with a concentration in meteorology graduating in Fall 2021. His academic interests include severe weather development, specifically tornadogenesis. In his time at Georgia Tech, he co-facilitated the meteorology focused virtual outreach program, "Into the Storm" with Dr. Zachary Handlos to highschool students across the country. He is also a member of Georgia Tech's nationally ranked WxChallenge team. Last summer, he interned with RapidRMS in Calhoun, GA. Outside of academics, Matt is a member of his fraternity, Sigma Phi Epsilon, a basketball fan, and an avid guitar player. After graduation, he plans to get a Master's degree and then begin his career as a broadcast meteorologist.
Jason Martinez
-
March, 2021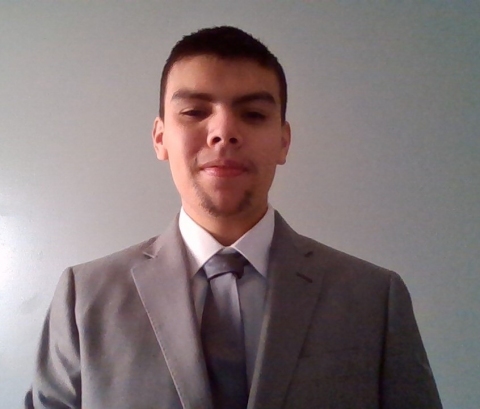 Jason Martinez is a senior undergraduate EAS major with a concentration in meteorology. During his time at Kennesaw State University, he made the Dean's List and enjoyed volunteering with the Kennesaw State University Mathematics Conference and Kennesaw Mountain Trail. At Georgia Tech, Jason has continued community service through the EAS Haunted Lab Tours and Montgomery Elementary School Science Expo. A highlight of Jason's EAS experience was almost breaking into the top 100 forecasters during his first WxChallenge competition in 2018. He became treasurer of the Metro Atlanta AMS chapter for 2019. Because of supporting the role as treasurer, all four officers gained recognition of becoming part of the AMS Chapter Honor Roll 2019-2020. After graduating from Georgia Tech, Jason is looking forward to exploring the applications of meteorology and observing various weather events across the country.
Hannah Levy
-
February, 2021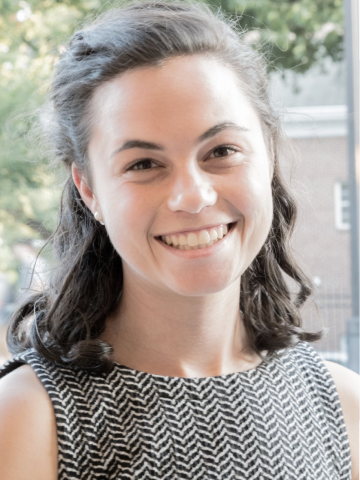 Hannah Levy is a fourth year EAS major, with a concentration in meteorology, and a Public Policy minor, graduating in Spring 2021. Her academic interests include environmental policy and climate science. She is working with Dr. Kim Cobb to examine relationships between salinity and oxygen isotopes to identify trends related to El Niño Southern Oscillation in the tropical Pacific. She is interning with Nashville Severe Weather writing weather forecasts that are published on a blog. Last spring, she also interned with CNN in the Weather and Climate Department. After college, she plans to begin a career in environmental policy. Outside of class, Hannah is involved with Hillel and campus Greek Life. She enjoys reading, baking, being outdoors, and running. Since starting at Georgia Tech, she has run the Atlanta Marathon twice.
Walter King
-
January, 2021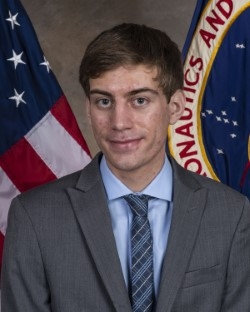 Walter King is pursuing a minor in geophysics while completing his bachelor's degree in mechanical engineering at Georgia Tech. Currently, he is working on the VERNE project, a NASA sponsored mission concept to penetrate the icy surface of Europa and search for biosignatures in the ocean beneath. He works under Dr. Britney Schmidt and is responsible for the design of a tether spooling mechanism and contributes to the science and sample handling team as well. In the spring of 2021, Walter plans to conduct research under Dr. Schmidt exploring seismic sensing for ice penetrator vehicles during the final semester of his undergraduate study. Outside of Georgia Tech, Walter is a participant in the NASA Pathways Program at Marshall Space Flight Center in Huntsville, Alabama. At MSFC, he has worked on thermal protection systems for NASA's Space Launch System (SLS) core stage, flight hardware integration for the Near-Earth Asteroid Scout mission, a feasibility study for the Europa Lander mission, and lunar sample return mission planning. Walter grew up in Elkins, a small town situated in the hills of West Virginia. He enjoys playing the fiddle and the guitar, backpacking and rock climbing, as well as tinkering with things in his spare time.
Pages