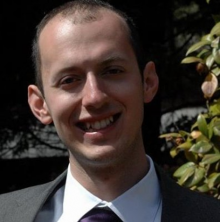 Please briefly describe your current job:
I work as a meteorologist in the Climatology Division at Fleet Numerical Meteorology and Oceanography Center (FNMOC). A large part of my job is focused on analyzing model performance and communicating that to the Navy forecasters. However, I also support forensic requests and climatology inquiries.
What is your favorite part of your current position:
My favorite part of my job is being able to work with so many different types of people. For model verification in particular, I work with the modeling teams at FNMOC and the Naval Research Laboratory (NRL) to understand inherent model biases, trends, and tendencies, and after confirming these biases through my own analysis, I must find a way to efficiently communicate them to the military liaisons and Navy forecasters. Although a lot of my work centers around programming, I find myself interacting with quite a few people on a daily basis.
How did your EAS education prepare you for your current job?:
Without many EAS courses, including atmospheric dynamics, synoptic meteorology, and environmental data analysis, I would not have the necessary meteorology knowledge or the scientific and computer skills that are vital to my current position. Additionally, my undergraduate research experience helped me to understand how to question things scientifically, something that has helped me not only in my current position, but also during my time as a Graduate Research Assistant. Finally, my Practical Internship with the National Weather Service during my senior year helped me to understand weather forecasting better, which has helped me with various aspects of my current position.