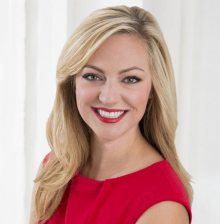 Please briefly describe your current job:
I forecast the weather for the North Texas area. It's a job that is always changing because the weather is always changing. Along with putting together the weather forecast for the 12 Noon and 4 PM newscasts, I also conduct interviews, write stories, update social media platforms, set up live shots, report from the field, storm chase, and cover severe weather events from the front lines or the studio. It's my job to make sure North Texas knows what's going on in the sky and how to be safe when things get messy. As a member of WFAA's weather team, I help get the word out about severe weather and severe weather safety through school visits, community events, our social media platforms, and, of course, television. Though weather is my #1 priority at work, I also get the opportunity to branch out occasionally. I've filled in on Good Morning America, flown with the Blue Angels, swam with sharks, and wake-boarded for a live shot!
What is your favorite part of your current position:
I also love the variety of my assignments. One day I'm creating weather graphics in the studio - the next I'm doing a live shot at a festival!
How did your EAS education prepare you for your current job?:
I can't say enough wonderful things about my time at Georgia Tech! My EAS education provided me with the knowledge and background to excel in my Meteorology career. However, it wasn't just my course work; my classmates, fellow weather enthusiasts and Professors encouraged and helped me make the connections and find the opportunities to turn my dreams into reality. While at Georgia Tech, I interned behind-the-scenes with GTRI's Severe Storms Research Center in Cobb County and the National Weather Service in Peachtree City. These opportunities provided invaluable experiences as I furthered my Meteorology studies. As I neared graduation at Georgia Tech, I thought about television. It was definitely out of my realm (believe it or not, I get stage fright!), but I decided to reach out to local Atlanta television stations to see what opportunities might be available. WSB-TV's Chief Meteorologist Glenn Burns contacted me with an invitation to tour their station. I ended up landing an internship with WSB for my last semester. I fell in love with their world of weather. It was a terrific way to express my passion for weather and share it with others on a daily basis. Fast forward a few years later and here I am! However, I would not be where I am today without the support of my mentors. I am thankful that WSB's Glenn Burns and Brad Nitz told me to jump in front of the Chroma Key Wall and see what I could do! Their continued encouragement, guidance and advice has helped me navigate this wacky world of television weather! You're always growing and learning and I'm grateful for the helping hands, then and now! Along with my mentors, I am so thankful for my family who has supported this dream of mine! My Dad also graduated from Georgia Tech. I grew up not only with a passion for weather, but a passion to become a Yellow Jacket!
What do you wish you had known as an EAS undergraduate in order to land the job of your dreams?:
I can't stress enough the importance and value of internships and mentors! The further I progress in my profession, the more I am thankful for those opportunities and relationships. Real world experience and advice from those in the industry, is so very important and vital to a successful career in weather. A good dose of enthusiasm, dedication and hard work doesn't hurt either!