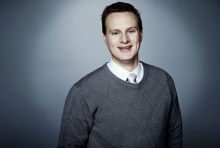 Meteorologist and Supervising Weather Producer
What is your favorite part of your current position:
I am always following major weather stories from around the globe, as well as planning and executing coverage of them. I love the fact that from day to day, I never know what I will be doing/covering when I come into work. From a major earthquake and tsunami to a solar eclipse and everything in between. There is always something interesting going on somewhere in the world. Some things you can plan for and somethings, obviously, you cannot
How did your EAS education prepare you for your current job?:
My EAS education, and time at Georgia Tech overall, prepared me extremely well for my career in broadcast meteorology. The research opportunities I was afforded at GT, both as an undergraduate and graduate student, give me a level of comfort with new science and research studies that we frequently report on. The wide variety of courses offered in EAS has also benefitted me many times. As a meteorologist in television, especially on a national and international scale, you are frequently covering stories outside of traditional "meteorology." I have found myself relying on courses I took in EAS when communicating climate change, air pollution, earthquakes, volcanoes. For example, I remember thinking during a particularly complicated assignment in Ocean Dynamics, "when am I ever going to need this as a meteorologist?" As it turned out, I have used many aspects of that class when covering the BP Oil spill in the Gulf of Mexico, as well as tracking tsunami debris across the Pacific following the 2011 earthquake.
What do you wish you had known as an EAS undergraduate in order to land the job of your dreams?:
I was extremely fortunate to start at CNN as an intern and begin to work my way up from there. I would say it is never too early to start looking for internships and research experiences. In meteorology, as in nearly all careers, networking is key. So the more you can do to network with people in the field (internships, professional societies, undergraduate research, etc.) the better off you will be. One thing I wish I would have done more of during my time at GT – take more business classes. As I have moved into more of a manager's role, I have realized the benefits of the few business classes I took while at Tech. I wish I would have taken more of them, and maybe pursued an MBA while there. Pretty much no matter what you pursue in EAS, business classes can only help you as you advance in your career.