Lily Sandler
-
January, 2019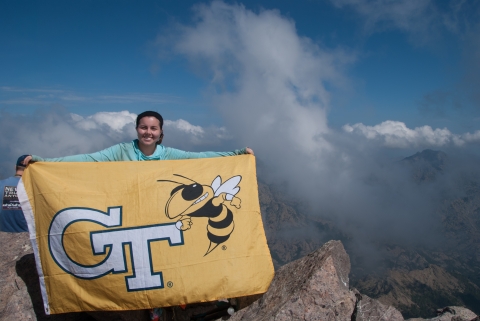 Lily Sandler is a 3rd year EAS major. Her research interests lie in biogeochemistry. She does undergraduate research with Dr. Jennifer Glass on oceanic nitrogen cycling. She is working to develop a method to efficiently measure hydroxylamine, a reactive intermediate of the nitrogen cycle that react to produce nitrous oxide, a potent greenhouse gas.
Lily is also a member of the Georgia Tech chapter of Sigma Gamma Epsilon, the Earth Science honor society. Lily also volunteers at ORGT (Outdoor Recreation Georgia Tech), where she is a Backpacking Instructor and helps to lead overnight backpacking trips for Georgia Tech students. Over the summer, she went on an ORGT Backpacking Expedition to Corsica, an island in the Mediterranean, to complete the GR20, the hardest long-distance hiking trail in Europe. She enjoyed seeing the geologic formations on the trail!
Kathrine Udell
-
December, 2018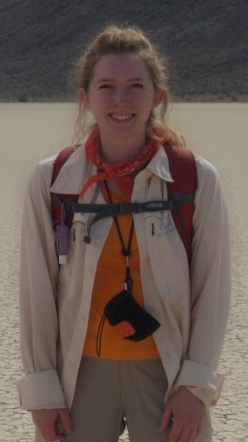 Kathrine Udell is a 4th year EAS student minoring in Sustainable Cities. Her research interests are in planetary science and glaciology. She does undergraduate research with Dr. Britney Schmidt on the dynamics of glaciers in Greenland. In 2017, Kathrine worked on the TARGIT CubeSat LiDAR project under Dr. Brian Gunter. Kathrine also spent a semester interning at EGSci, a geotechnical consulting company.
During her time researching she has attended IGS, presented at AGU 2017 and is planning to present again at AGU 2018. Kathrine is also the president and a founding member of the Georgia Tech chapter of Sigma Gamma Epsilon, the Earth Science honor society.
In her free time, Kathrine likes to tend to her ever-growing plant collection, read, and travel.
Kayla Duarte
-
November, 2018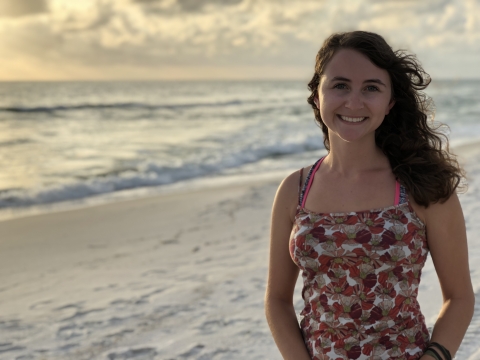 Kayla Duarte is a third year EAS major concentrating in planetary science and will be graduating in May 2019. She has been working on NASA's Dawn Mission with Dr. Britney Schmidt since her freshman year studying geomorphological features on dwarf planet Ceres and the role of ground ice in its subsurface. She has a first-authored paper in revision pertaining to an intermediate class of landslides identified on Ceres, and recently gave a talk at the Division of Planetary Sciences Annual Meeting in Knoxville, TN on her current research involving potential ground ice related features in Occator crater on Ceres.
During her time at Georgia Tech, Kayla was awarded both the Rutt S. Bridges Undergraduate Research Award and the President's Undergraduate Research Award. She was also a member of Lambda Sigma Honor Society, a sophomore-only honor fraternity.
In her spare time, she enjoys spending hours in the kitchen creating organic cosmetics, playing guitar, and skateboarding.
Aishwarya 'Ria' Joshi
-
January, 2017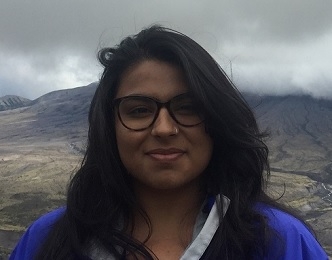 Ria Joshi is a 4th year EAS major with a concentration in Oceanography and Sustainability. Her line of research interest includes the Study the dynamics of density currents on underwater volcanic eruptions and currently working with Dr. Josef Dufek and grad student Ryan Cahalan.
While at Ga Tech, Ria has enjoyed the leadership role as the EAS Club President, a teaching assistant for EAS 2600, team leader for GT1000. In the future Ria hopes to work as an environmental consultant.
Ria considers "spare time" is the equivalent of "stopping time", and because of this enjoys activities which allow her to capture a moment and indulge. Cuddling up and loosing herself in a novel or a journal article (usually about the environment) or traveling and hiking with her family. When hiking, she likes to blend her knowledge from her undergrad work and the world around her, by sharing geology knowledge to her hiking mates. Over the past 13 years when Ria wants to escape from nature and school, she enjoys practicing Tae Kwon Do, which she has the rank of 3rd Degree Black belt.
Nicholas Hitt
-
December, 2016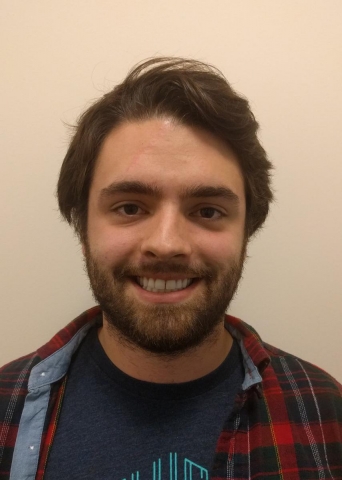 Nicholas Hitt is a 5th year senior graduation December 2016. His line of research is Paleoclimatology and Oceanography and has worked in Dr Kim Cobb's Lab since spring 2015. While working with Dr. Cobb, Nick was awarded the Rutt S. Bridges Undergraduate Research Award and the PURA Travel Grant. He spoke at the AGU Ocean Sciences Meeting in New Orleans in 2016 and will be speaking at the AGU Fall Meeting in December 2016. Nick was able to go on a field expedition to Christmas Island in March 2016 for 10 days collecting water samples to study the 2015/2016 El Nino and coral for future paleoclimate work.
He has also really enjoyed teaching and being a TA for EAS 1601 since fall 2015.With Nick's research over course of his undergrad experience, he will be publishing a methodology paper on using young fossil corals for 20th century mean climate reconstructions.
In Nick's spare time he plays guitar, hunts, fishes and hikes. He also likes to drive around the country for music festivals.
Riannon Colton
-
November, 2016
Riannon Colton is a 3rd year undergraduate student in EAS currently working towards her B.S. degree. In 2015-2016, she studied tectonic influences on chemical erosion rates under Dr. Ken Ferrier. In Spring 2016, Riannon earned the EAS Rutt Bridges Undergraduate Research Award and had the opportunity to spend 16 days aboard a Schmidt Ocean research vessel, the R/V Falkor, in Vietnam. This work was under the direction of Dr. Annalisa Bracco on an international ocean science team to measure nutrient fluxes to the South China Sea.
She is currently working on a NASA USIP team under Dr. Brain Gunter (Aerospace Engineering) designing and building a CubeSat that will remotely sense surface topography of planetary bodies to high precision using a LiDAR instrument.
Riannon is an ORGT Caving Instructor in Training. In her spare time, she loves SCUBA diving, backpacking, and traveling. She is a member of EAS club and GT StORM, and an avid player of Humans vs Zombies on Georgia Tech campus.
Matt Barr
-
October, 2016
Matt Barr is a 4th year undergrad student in EAS. His line of research is oceanography in which he is using models and observations to analyze areas of low oxygen off the western coast of North America. Matt received his B.A. in religious studies from UCF in Orlando. He started and maintains the EAS research blog at www.gteas.wordpress.com. Matt also writes news stories and articles for the College of Sciences website.
He says that he is interested in pursuing a career in science journalism and/or science communication, and has been trying to tailor his experience at Tech to meet that goal. In his spare time, Matt enjoys hiking/camping, learning guitar, traveling often, and building furniture.
Maddi Frank
-
September, 2016
Maddi Frank is a 5th year undergraduate student graduating in December 2016 with a B.S. EAS degree with a concentration in Meteorology. She is researching gas phase atmospheric chemistry and air quality field work with an aircraft based concentration. She currently works with CIMS (Chemical Ionization Mass Spectrometer) under Dr. Greg Huey and David Tanner. She has worked in Dr. Huey's lab for over 2 years and has participated in 2 field missions. Two years ago she went to Colorado for 6 weeks for the FRAPPE (Front Range Air Pollution and Photochemistry Experiment) mission with UCAR in Summer 2014. This past summer 2016, she went to South Korea for a month to participate in the KORUS-AQ mission with NASA.
Maddie says that aviation meteorology is the field she eventually wants to go in to. She is a TL for GT1000, a member of the EAS club, an officer in the StORM club, and a mentor in the Eye to Eye program here at Georgia Tech. In her spare time, she enjoys spending time with friends while hiking and being outside. She also enjoys eating ice cream and playing or listening to music with friends. And says that she likes to take pictures of lightning and other weather phenomena.
Bruno Rodriguez
-
April, 2016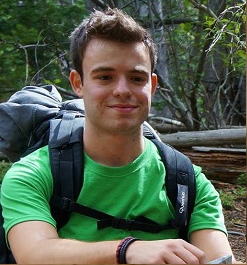 Bruno Rodriguez is a 4th year senior in EAS. His line of research includes severe weather and mesoscale meteorology. Currently he is deciding between two different research projects for graduate school, which he has been accepted to. Bruno is looking to do research related to either tropical meteorology at Florida State University or Fire Weather at San Jose State University. His previous work includes a summer research project, with Dr. James Belanger, on tornado predictability during tropical cyclones.
Bruno has also worked as an EAS tutor for the Georgia Tech Athletic Association and he is currently a TA for EAS 1600, along with being a student volunteer at the National Weather Service in Peachtree City, GA. In his spare time, he enjoys traveling and any and all outdoor activities (hiking, camping, etc).
Chloe Stanton
-
March, 2016
Chloe Stanton is currently in her third year in EAS. She has been heavily involved in undergraduate research since she was a freshman and has worked with Dr. Jen Glass for 3 years. Her interests are in the biogeochemical cycling of nitrogen in the modern and ancient oceans, particularly the potent greenhouse gas nitrous oxide. Currently, Chloe is investigating marine nitrous oxide as a possible alleviation of the Faint Young Sun problem in the Proterozoic Era. She will be presenting her recent studies at the upcoming Southeastern Biogeochemistry Symposium in Knoxville, and publishing these results this year.
Chloe has been on sampling trips to Sapelo Island in the summer of 2014 and to Skidaway Island in the spring of 2015. She was awarded the Rutt Bridges Undergraduate Initiative Award last summer to continue her study of nitrous oxide production. This past fall, she travelled to Penn State University to work with the esteemed Dr. James Kasting, modeling the photodissociation of nitrous oxide in the Proterozoic atmosphere. To prepare herself for further geologic research, she will be attending a course at the Indiana University Judson Mead Geologic Field Station in the Rocky Mountains this summer.
She also serves as a TA for EAS 2600 and is a co-president for the EAS undergraduate club. In her free time, she likes to get outside and spend time with her family, friends, and pets.
Pages