Emma Brown
-
October, 2019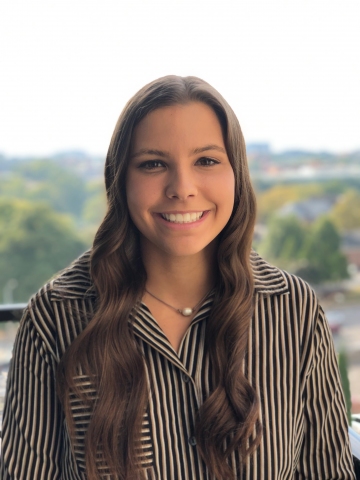 Emma Brown is a third year EAS major with research interests in geochemistry and icy bodies, specifically what makes a planet habitable. She recently got back from a trip doing fieldwork in British Columbia, Canada where she collected samples from chemically "weird" lakes as part of an OAST (Oceans Across Space and Time) project. She will spend the rest of the semester performing ion chromatography on the samples for her research under Britney Schmidt. Next semester she is thrilled to have the opportunity to go back to British Columbia and experience fieldwork in the ice (and -30⁰F!). Her other involvements in EAS are StORM club, being a TA for Earth Processes, and a former student assistant. Some of her favorite things to do include reading science fiction, playing on an intramural soccer team and of course, drinking coffee. In the future, she plans to attend graduate school for a PhD in planetary science.
Gigi Pavur
-
September, 2019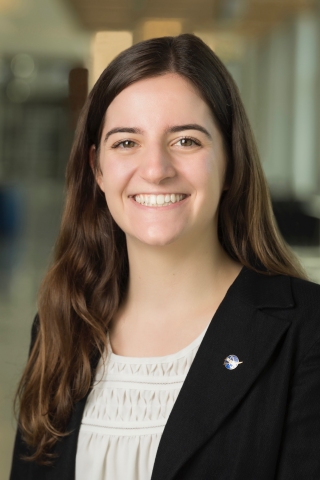 Gigi Pavur is a 4th year undergraduate EAS major with research interests in Earth observations, remote sensing, and natural disasters. She spent her summer after sophomore year interning at NASA Headquarters in Washington, DC with the Earth Science Division's Applied Sciences Program. This past summer, Gigi was a part of the NASA DEVELOP program at NASA Langley Research Center. Her project involved partnering with international government agencies to improve a landslide situational awareness model for the Dominican Republic through the integration of NASA Earth Observations. She was also awarded a 2019 SSAI Scholarship for her work at NASA DEVELOP. At Georgia Tech, Gigi enjoys being a Sustainable Undergraduate Research Fellow and the opportunity to work in Dr. Ted Russell's research group. She also studied abroad on the Pacific Program and spoke at the 2017 New Student Convocation ceremony. In her free time, Gigi loves playing violin in the Georgia Tech Symphony Orchestra, spending time outdoors, and learning new cheesy puns.
Hannah Verboncoeur
-
May, 2019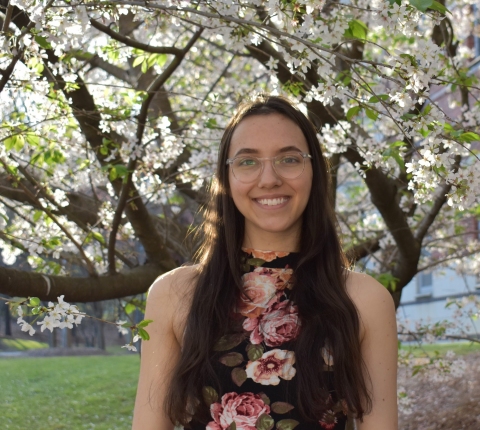 Hannah Verboncoeur is a 2nd year EAS undergraduate major pursuing the research option with interests in glacial geophysics. Her early research focused on the geomorphological processes of the earth's surface with Dr. Ken Ferrier, including chemical depletion in regolith, bedrock frost fracture, and knickpoint propagation. She has been a researcher in an NSF summer REU program and is currently preparing for a summer fieldwork position on the Juneau Icefield between Alaska and Canada, where she'll be studying ice sheet geophysics using ground-penetrating radar techniques. When she returns, she will dive into glaciological research with Dr. Alexander Robel, learning as much as she can about the science she's so passionate about. Hannah is a founding officer of Georgia Tech's Earth science honor fraternity Sigma Gamma Epsilon, the EAS representative on the Undergraduate House of Representatives, and an active recruiter of prospective EAS students. In her spare time, Hannah is an avid foodie, adventurous traveler, and loves watching standup comedy. In the future, she plans to work towards her PhD and continue developing her career as a glaciologist.
Brad Rubin
-
April, 2019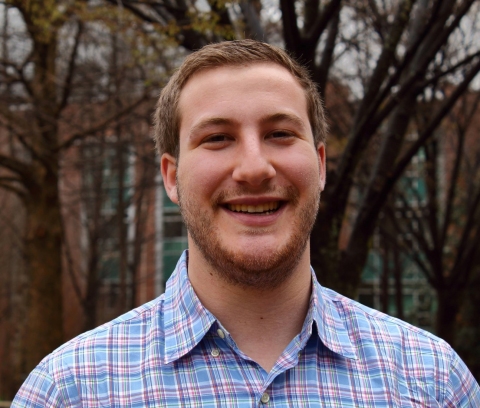 Brad Rubin is a third year EAS Major with a Meteorology focus. Brad's main interests are severe weather cyclogenesis, operational forecasting, meteorological consulting, and (occasionally) storm chasing. He is an active member of the American Meteorological Society (AMS); he currently serves as President of Georgia Tech's AMS student chapter, StORM Club, and he attended the 2019 AMS Student Conference. He is currently researching jet superposition events and near-miss events under the guidance of Dr. Zachary Handlos, and plans to pursue a Master's degree. He is a brother of Phi Delta Theta and a member of the Sting Hunger Club on campus. He enjoys playing basketball, fishing, and cooking.
Sara Tonks
-
March, 2019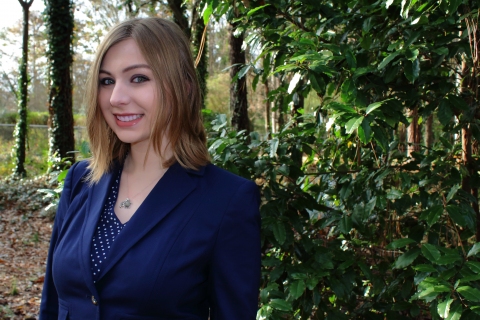 Sara Tonks a third year BS/MS student majoring in Earth and Atmospheric Sciences with a focus in Meteorology. She is most interested in severe weather, emergency management, meteorological data analysis, and fieldwork. She is an active member of the American Meteorological Society (AMS); she currently serves as Vice President of Georgia Tech's AMS student chapter, StORM Club, and she attended the 2019 AMS Student Conference. She has TA'd EAS 1600 (Introduction to Environmental Sciences) and EAS 1601 (Habitable Worlds). She is a Brother of Kappa Kappa Psi, National Honorary Band Service Fraternity. In her free time, she enjoys playing guitar, writing, and hiking.
Xinyi (Camilla) Liu
-
February, 2019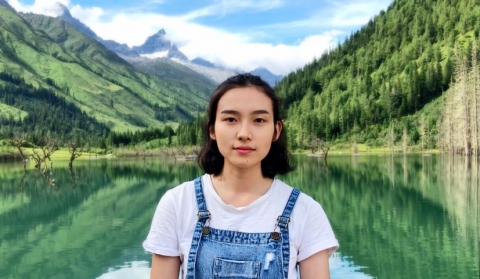 Xinyi (Camilla) Liu is a 3rd year senior EAS undergraduate major with a minor in German. She will begin her PhD in Fall 2019. Her undergraduate research has focused on landscape and early life evolution, and her most recent project involves Earth system modelling with Dr. Chris Reinhard. She is an EAS lab TA, a member of Sigma Gamma Epsilon, a PURA recipient, and an Alternative Break Coordinator in GT Trailblazers. Camilla is from China. She enjoys travelling, especially in the Himalayas, playing badminton, playing the Chinese flute, translating books, travel photography, and trying all sort of new things.
Lily Sandler
-
January, 2019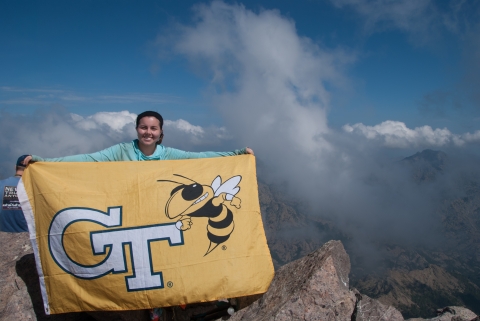 Lily Sandler is a 3rd year EAS major. Her research interests lie in biogeochemistry. She does undergraduate research with Dr. Jennifer Glass on oceanic nitrogen cycling. She is working to develop a method to efficiently measure hydroxylamine, a reactive intermediate of the nitrogen cycle that react to produce nitrous oxide, a potent greenhouse gas.
Lily is also a member of the Georgia Tech chapter of Sigma Gamma Epsilon, the Earth Science honor society. Lily also volunteers at ORGT (Outdoor Recreation Georgia Tech), where she is a Backpacking Instructor and helps to lead overnight backpacking trips for Georgia Tech students. Over the summer, she went on an ORGT Backpacking Expedition to Corsica, an island in the Mediterranean, to complete the GR20, the hardest long-distance hiking trail in Europe. She enjoyed seeing the geologic formations on the trail!
Kathrine Udell
-
December, 2018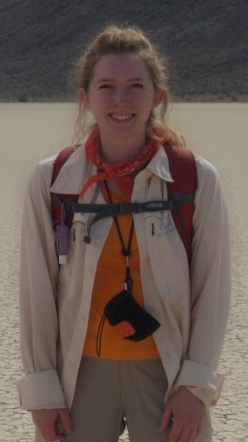 Kathrine Udell is a 4th year EAS student minoring in Sustainable Cities. Her research interests are in planetary science and glaciology. She does undergraduate research with Dr. Britney Schmidt on the dynamics of glaciers in Greenland. In 2017, Kathrine worked on the TARGIT CubeSat LiDAR project under Dr. Brian Gunter. Kathrine also spent a semester interning at EGSci, a geotechnical consulting company.
During her time researching she has attended IGS, presented at AGU 2017 and is planning to present again at AGU 2018. Kathrine is also the president and a founding member of the Georgia Tech chapter of Sigma Gamma Epsilon, the Earth Science honor society.
In her free time, Kathrine likes to tend to her ever-growing plant collection, read, and travel.
Kayla Duarte
-
November, 2018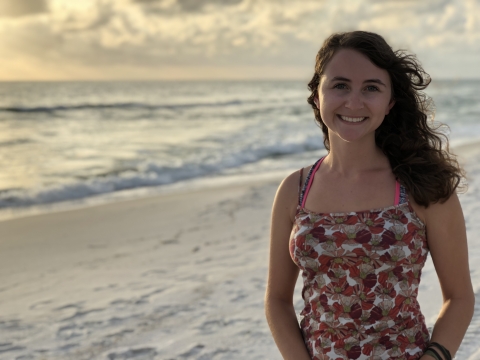 Kayla Duarte is a third year EAS major concentrating in planetary science and will be graduating in May 2019. She has been working on NASA's Dawn Mission with Dr. Britney Schmidt since her freshman year studying geomorphological features on dwarf planet Ceres and the role of ground ice in its subsurface. She has a first-authored paper in revision pertaining to an intermediate class of landslides identified on Ceres, and recently gave a talk at the Division of Planetary Sciences Annual Meeting in Knoxville, TN on her current research involving potential ground ice related features in Occator crater on Ceres.
During her time at Georgia Tech, Kayla was awarded both the Rutt S. Bridges Undergraduate Research Award and the President's Undergraduate Research Award. She was also a member of Lambda Sigma Honor Society, a sophomore-only honor fraternity.
In her spare time, she enjoys spending hours in the kitchen creating organic cosmetics, playing guitar, and skateboarding.
Aishwarya 'Ria' Joshi
-
January, 2017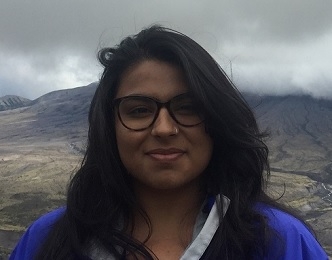 Ria Joshi is a 4th year EAS major with a concentration in Oceanography and Sustainability. Her line of research interest includes the Study the dynamics of density currents on underwater volcanic eruptions and currently working with Dr. Josef Dufek and grad student Ryan Cahalan.
While at Ga Tech, Ria has enjoyed the leadership role as the EAS Club President, a teaching assistant for EAS 2600, team leader for GT1000. In the future Ria hopes to work as an environmental consultant.
Ria considers "spare time" is the equivalent of "stopping time", and because of this enjoys activities which allow her to capture a moment and indulge. Cuddling up and loosing herself in a novel or a journal article (usually about the environment) or traveling and hiking with her family. When hiking, she likes to blend her knowledge from her undergrad work and the world around her, by sharing geology knowledge to her hiking mates. Over the past 13 years when Ria wants to escape from nature and school, she enjoys practicing Tae Kwon Do, which she has the rank of 3rd Degree Black belt.
Pages