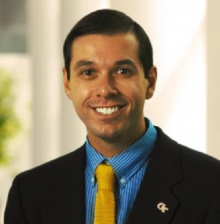 Consultant, Operational Excellence
What is your favorite part of your current position:
The favorite part of my job is the ability to effect change and contribute to the success of a globally recognized brand.
How did your EAS education prepare you for your current job?:
EAS prepared me for my current position by honing my skills in analytical problem solving and tactical execution constantly exercised in the numerous quantitative and field study courses. Operational Excellence is the analysis, quantification, and resolution of real world business problems, to which I apply the scientific method of problem solving every single day.
What do you wish you had known as an EAS undergraduate in order to land the job of your dreams?:
....Network with upperclassmen and graduate students. This would have given me avenues to reach the private sector quicker, as these resources would have been ensconced in their careers by the time I was ready to enter the work force. I urge everyone to seek ways to network with upcoming graduates and EAS alumni and then pay it forward when you yourself graduate by reaching back to the incoming classes! Second, I would have been more investigative of how to apply other skills and talents I had to landing the perfect job. For instance, I was able to leverage my creative skills and my meteorological experience to become a television graphic product developer at The Weather Channel. It was the perfect marriage of my EAS degree and natural talents to find a career opportunity that I didn't even know existed at the time of my studies at Georgia Tech.