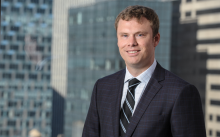 Please briefly describe your current job:
Patent attorney focused on patent infringement litigation and intellectual property counseling.
What is your favorite part of your current position:
I enjoy advocacy at the intersection of law and technology
How did your EAS education prepare you for your current job?:
Studying EAS at Georgia Tech gave me a broad base in general sciences and trained me to think analytically.
What do you wish you had known as an EAS undergraduate in order to land the job of your dreams?:
Never stop learning and do not be afraid to make a career change or two along the way. An undergraduate education is not so much training as it is a foundation for continued success.