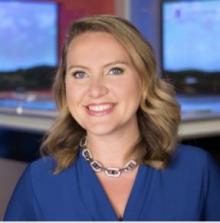 What is your favorite part of your current position:
I relay my passion for the science of weather to the viewers of the Tennessee Valley
How did your EAS education prepare you for your current job?:
The EAS program -- and Georgia Tech in general -- fosters an environment of "you better know what you're talking about, or else we will question your comprehension of the content." This comes in handy when a viewer calls a forecast into question: I can thoroughly explain the science behind the forecasting techniques, which then fosters a feeling of trust between the viewer and the meteorologist. When a broadcast meteorologist delivers their forecast with authenticity and confidence, viewers usually recognize the authoritative delivery of the presentation and respond favorably by instilling their trust and ultimately their viewership.
What do you wish you had known as an EAS undergraduate in order to land the job of your dreams?:
Previous experience is critical, and that experience is gained via internships. I didn't start interning until my senior year, but really, it should be stressed during the second semester of freshman year to apply and gain internships. And even though there are major media companies in Atlanta, it should be encouraged to intern at stations across the Southeast/U.S.