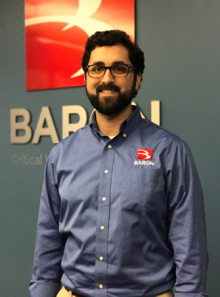 Customer Support Meteorologist Trainer
Please briefly describe your current job:
I travel to our broadcast TV station clients across the U.S. and abroad for training and installation of Baron software. This includes training the on-air meteorologists on our full suite of software products and coordinating with the broadcast engineers on the installation of our hardware at the TV station. From Huntsville, AL, we provide remote support and additional training for all Baron customers. We also test our state-of-the-art radar technology and proprietary weather data products on our display software.
What is your favorite part of your current position:
It turns out I love teaching. Training meteorologists from different backgrounds and areas of the country always presents unique challenges. It is always fun to have access to cutting-edge weather technology!
How did your EAS education prepare you for your current job?:
The rigorous coursework of Georgia Tech and the EAS department helped prepare me for the demanding work environment of the private meteorology sector. The professors, research, labs, and presentations gave me invaluable communication and teamwork experience that is essential for every career path.
What do you wish you had known as an EAS undergraduate in order to land the job of your dreams?:
Internships played a huge role in deciding my career path. Don't hesitate to reach out to companies about internships (even if they are unpaid!). Put your free electives towards a certificate or minor. That helped develop my business skills outside of the EAS program. The EAS department was a great resource to help me develop my resume and LinkedIn profile when applying to internships and jobs. Get started on that process early because you never know when an opportunity will present itself.