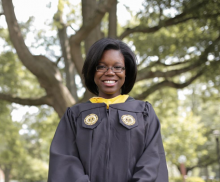 National Weather Service, Public Service Unit
Please briefly describe your current job:
I do a weather balloon launch, monitor and post on social media, publish weather/hydrology data and climate records, monitor the national weather radio products, provide decision support and forecasts to the public and other partners, among other roles.
What is your favorite part of your current position:
I actually have two favorite parts of my job. My favorite part of showing up to work every day is that I get to do a weather balloon launch. Launching a weather balloon allows me to completely understand first hand where our atmospheric data comes from and how atmospheric soundings are actually created. My favorite part of working with the NWS is knowing that we are working to save lives. I get to see every weather event from a different perspective from when I was younger. From tornado and severe thunderstorm warnings that save lives to just providing personalized forecasts, I feel like the people I work with really make a huge difference in the lives of everyone we encounter.
How did your EAS education prepare you for your current job?:
My EAS education prepared me for my current jobs in many ways. At my job now, I interact with the public and many other people every time I am at work, so the most important way my EAS education helped me was by teaching me to speak confidently in front of people and being a better leader. Through the many available networking opportunities, my research assistantship, teaching assistantships, and internships, I was able to interact with so many people and just become a more confident person overall.