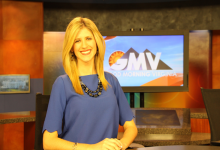 Please briefly describe your current job:
My day begins at 2:30am when I arrive to work and start forecasting and building my graphics for the show. Our morning show, Good Morning Virginia (GMV), is on air from 5am to 7am. Cut-ins for Good Morning America (GMA) are from 7am to 9am. Then I prepare for 13 News Midday which starts at 12pm!
What is your favorite part of your current position:
It's hard to pick just one part of my job that is my favorite. There are so many rewarding aspects that make each day enjoyable. I love broadcast meteorology not for the television aspect, but for the combination of science and community. Day to day I am constantly working with numbers, preparing my forecast for my viewers. Using the skills and knowledge I acquired at Georgia Tech. But I also love heading to school talks right after work, getting out in the community and sharing my love of weather with my viewers.Whether a formal visit to a class, flipping flapjacks at the Annual Pancake Jamboree, or just chatting at the grocery store on a Saturday-it's a blessing to weave my love of science and love of people into my day to day job.
How did your EAS education prepare you for your current job?:
I always tell people I'm a meteorologist on TV, not a TV meteorologist. There is a difference. The difference is Georgia Tech. I can say with confidence that I would not be where I am today if it had not been for the network at Georgia Tech. It is because of the exceptional staff and rigorous coursework of the EAS program that equipped me to be a skilled and well-versed meteorologist in the broadcast world. The EAS faculty and staff are exceptional and second to none. My professors were always there for my classmates and I in the classroom, during office hours, and even more if necessary. They are phenomenal teachers in their respected fields and wonderful mentors for the real world. I was never afraid to ask a question. Whether it was asking how to finish homework problem #3, explaining Quasi-Geostrophic Theory, or even, where do I go from here? I have never met another department that rivals the professional and personal level that the professors of EAS have. It makes going to class all the more easier and fun. My academic advisors as well as the staff within the office are the friendliest and most helpful that you will meet and they made my years at Tech most enjoyable. Then there is the material you learn. The nuts and bolts. Daily, I am deciphering numerical data and detailed information then translating it to the public. You have to know what you are talking about and that's where your coursework comes in.The classes I took within the Earth and Atmospheric Sciences department were rigorous and demanding. The coursework is not for the faint of heart-but once you become proficient in your studies, you are prepared to take on any career within your field. The variety of classes offered gave me an edge on others as I was well-versed in a variety of subjects ranging from meteorology, to atmospheric chemistry, climatology and a plethora of other coursework. You'll be asked a lot of questions-not only the weather but climate, the atmosphere and everything in between. I can answer their questions with confidence and know that it is because of the education I have received.
What do you wish you had known as an EAS undergraduate in order to land the job of your dreams?:
Experience is everything. Once you have the knowledge, you have to take it and apply it in the real world. In my opinion, internships throughout your college career are extremely helpful and necessary. They add to your already impressive resume and show future employers that you can "walk the walk and talk the talk". You'll learn everything you need to know in your core and elective classes. But take advantage of the opportunities presented to you outside of the classroom. Your advisors will help you fine tune the resume and help you look for internships. The sky is the limit. Apply often and if you aren't sure what field you want to go in-apply to internships in different career paths. There is a plethora of avenues to explore. My last internship my final semester was at CNN. I then started working there the Monday after graduation which started me on my journey and has brought me to where I am today. Also, don't be afraid to network and build professional relationships. The weather world is small and our community is tight-knit. You never know who you'll run into on the road ahead.