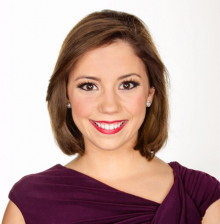 Please briefly describe your current job:
I forecast and deliver weathercasts for the greater DC area both in the studio and out in the elements.
What is your favorite part of your current position:
The weather impacts EVERYONE, and to be honest, it's one of the only reasons many people watch local news every day. You can get a basic 7 day forecast from any number of 'crap apps', but when you watch and listen to your local meteorologist - you can learn. I love that whether I am in the studio talking about incoming rain, in the field standing in half a foot of snow and blinding winds, or in a classroom setting with an experiment demonstrating how it rains -- I can always spread my enthusiasm and love of the weather to another person and get them excited. Science is cool!
How did your EAS education prepare you for your current job?:
More than anything - being in the environment of Georgia Tech verses a much easier meteorology school taught me perseverance and how to take myself seriously. There are a wide range (and some very difficult) classes you must take as part of the program, and you have to learn how to take battle wounds and continue on. That is life - and little setbacks will always happen for the rest of your life. It's how you react and move forward after a setback that can make you successful. Georgia Tech and the EAS program taught me to be confident and quickly find the best solution to a problem and fight for what I believe in.
What do you wish you had known as an EAS undergraduate in order to land the job of your dreams?:
I think because of my career path I chose, having an easier bridge between the research/science parts of Georgia Tech and the communications industry in the rest of the world would have been helpful. GT gave me the science background, but it was only through the internships and mentorship I gained through those internships that helped my jump a step ahead of the rest of meteorology students to advance faster in the real world.